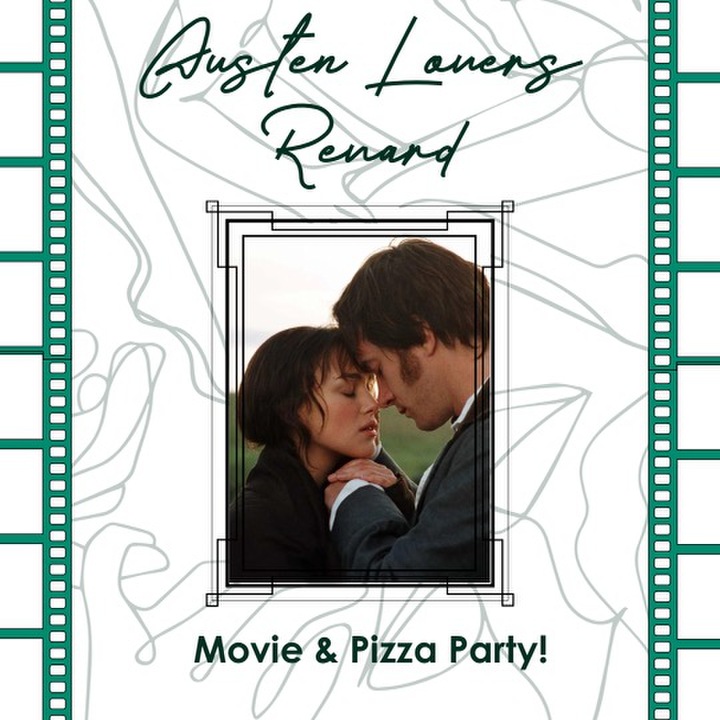 Purchase this reward and join a private pizza party and Pride and Prejudice (2005) screening with Ali Hazelwood, Julie Soto and Nikki Payne!!!
Join Ali, Julie and Nikki for their millionth rewatch of Pride and Prejudice, faint at the Hand Touch™️, and be ready to say "I love you, most ardently" at the right moment.   This party is scheduled for the night of Friday, August 18th (after the signing session).  The party includes pizza and soft drinks and Ali and Julie's running commentary on the brilliance of Joe Wright. Pride and Prejudice and Pizza is perfect for the Jane Austen fan who is ready for their second or fortieth rewatch.
You will also receive signed copies of Forget Me Not by Julie Soto and Love, Theoretically by Ali Hazelwood, and Pride and Protest by Nikki Payne.
*Please note that this experience is scheduled at the same time as The Rom Con Friday night event.* 
This reward also comes with a ticket for The Rom Con 2023.
All tickets are general admission. General admission tickets will include all regular programming for the event. At this time, we are planning to include keynote speakers, panels, three meals, two evening parties, and eight hours of signing time with authors.

Please note that you will receive more information about your ticket via email once we upload it to the ticket platform.
**If you have already purchased a guaranteed ticket or a reward that includes a guaranteed ticket through this fundraiser or plan to, please email us at theromcon@steamylit.com prior to purchasing this reward so we can work with you in purchasing this reward without the ticket.**  
There will be no refunds or exchanges on contributions to this campaign, unless the event for 2023 is cancelled due to lack of funding secured through fundraising and sponsorships.
Here's the campaign
$185,800 raised
712 contributors
Steamy Lit Con is an event that is focused on celebrating diversity in romance. Our goal is to amplify the identities that have been systematically underrepresented in books and publishing.
Delete media item?
Delete this item from the media gallery? It will also be deleted from any related story update.
Set as ?
The campaign video will appear in social media and email.
The campaign cover picture will appear in social media and email.
The will appear at the top of your campaign page and in social media and email.
Reset ?
It won't be used as default in social media and email. The will remain in the media gallery.
It will be removed from the top of your campaign and won't be used as default in social media and email. The will remain in the media gallery.
Delete update
Delete this story update?
Any pictures or videos will remain in the campaign's media gallery.