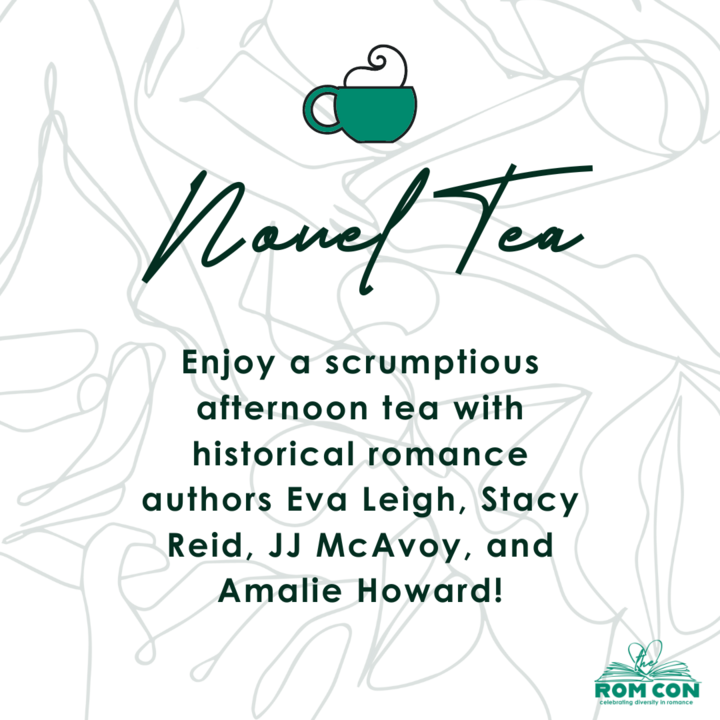 Enjoy a scrumptious afternoon tea with historical romance authors Eva Leigh, Stacy Reid, JJ McAvoy, and Amalie Howard on Sunday, August 20th at a local Los Angeles Tea Shop.  Regency or Victorian wear welcomed but not required. Enjoy tasty sandwiches, delicious cake, and hot scones with clotted cream and jam, as well as your preferred steaming pot of tea, while having scintillating conversation with your hostesses and chatting all things historical. We plan to taste and spill all the tea. Perfect for those who want to dress up (optional) and experience a small part of regency/Victorian life.
Transportation to the Morning Lavender Cafe will leave the hotel venue at 12:00 PDT.  This activity will last 2-3 hours (includes travel time).  Transportation will be provided from the event hotel and the cost of food is included in this reward. You will also receive a signed book by the authors and a special afternoon tea goodie bag!
*Restaurant subject to change if any extenuating circumstances*
This reward also comes with a ticket for The Rom Con 2023.
All tickets are general admission. General admission tickets will include all regular programming for the event. At this time, we are planning to include keynote speakers, panels, three meals, two evening parties, and eight hours of signing time with authors.

Please note that you will receive more information about your ticket via email once we upload it to the ticket platform.
**If you have already purchased a guaranteed ticket or a reward that includes a guaranteed ticket through this fundraiser or plan to, please email us at theromcon@steamylit.com prior to purchasing this reward so we can work with you in purchasing this reward without the ticket.**
There will be no refunds or exchanges on contributions to this campaign, unless the event for 2023 is cancelled due to lack of funding secured through fundraising and sponsorships.
Here's the campaign
$185,800 raised
712 contributors
Steamy Lit Con is an event that is focused on celebrating diversity in romance. Our goal is to amplify the identities that have been systematically underrepresented in books and publishing.
Delete media item?
Delete this item from the media gallery? It will also be deleted from any related story update.
Set as ?
The campaign video will appear in social media and email.
The campaign cover picture will appear in social media and email.
The will appear at the top of your campaign page and in social media and email.
Reset ?
It won't be used as default in social media and email. The will remain in the media gallery.
It will be removed from the top of your campaign and won't be used as default in social media and email. The will remain in the media gallery.
Delete update
Delete this story update?
Any pictures or videos will remain in the campaign's media gallery.