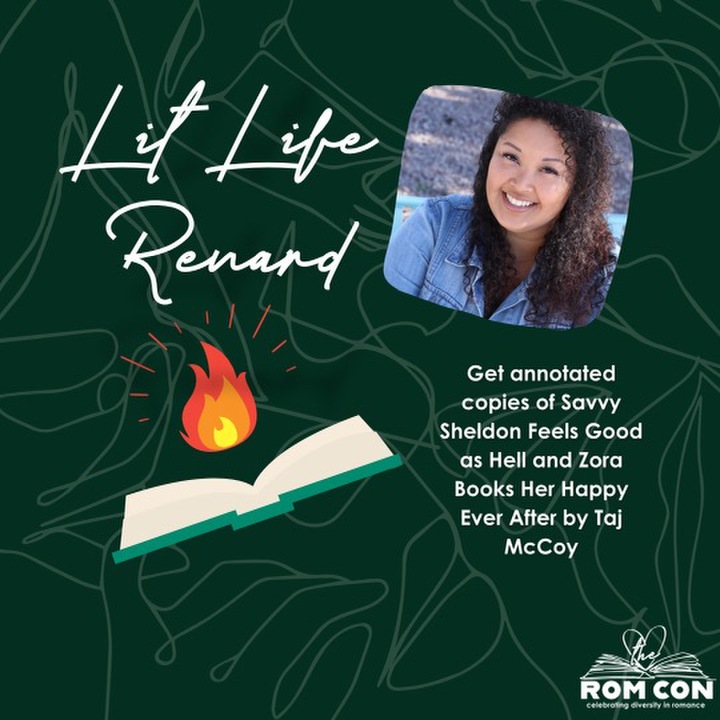 Purchase this reward and you will receive annotated copies of Savvy Sheldon Feels Good as Hell and Zora Books Her Happy Ever After by Taj McCoy. The signed bundle annotations will include doodles, author insights on specific scenes, commentary on scenes that didn't make the final copy, Taj's own thoughts on characters and moments, commissioned art cards for both stories, and a special message from Taj.  
Book synopsis for Savvy Sheldon Feels Good as Hell:
Savvy Sheldon spends a lot of time tiptoeing around the cracks in her life: her high-stress and low-thanks job, her clueless boyfriend and the falling-apart kitchen she inherited from her beloved grandma—who taught her how to cook and how to love people by feeding them. But when Savvy's world starts to crash down around her, she knows it's time for some renovations.
Starting from the outside in, Savvy tackles her crumbling kitchen, her relationship with her body, her work–life balance (or lack thereof) and, last but not least, her love life. The only thing that doesn't seem to require effort is her ride-or-die squad of friends. But as any home-reno-show junkie can tell you, something always falls apart during renovations. First, Savvy passes out during hot yoga. Then it turns out that the contractor she hires is the same sexy stranger she unintentionally offended by judging based on appearances. Worst of all, Savvy can't seem to go anywhere without tripping over her ex and his latest "upgrade." Savvy begins to realize that maybe she should've started her renovations the other way around: beginning with how she sees herself before building a love that lasts. 
Book synopsis for Zora Books Her Happy Ever After:
Zora has committed every inch of her life to establishing her thriving DC bookstore, making it into a pillar of the community, and she just hasn't had time for romance. But when a mystery author she's been crushing on for years agrees to have an event at her store, she starts to rethink her priorities. Lawrence is every bit as charming as she imagined, even if his understanding of his own books seems just a bit shallow. When he asks her out after his reading, she's almost elated enough to forget about the grumpy guy who sat next to her making snide comments all evening. Apparently the grouch is Lawrence's best friend, Reid, but she can't imagine what kind of friendship that must be. They couldn't be more different.
But as she starts seeing Lawrence, and spending more and more time with Reid, Zora finds first impressions can be deceiving. Reid is smart and thoughtful—he's also interested. After years of avoiding dating, she suddenly has two handsome men competing for her affection. But even as she struggles to choose between them, she can't shake the feeling that they're both hiding something—a mystery she's determined to solve before she can find her HEA.
This bundle will ship in May 2023.
There will be no refunds or exchanges on contributions to this campaign, unless the event for 2023 is cancelled due to lack of funding secured through fundraising and sponsorships.
Here's the campaign
$185,800 raised
712 contributors
Steamy Lit Con is an event that is focused on celebrating diversity in romance. Our goal is to amplify the identities that have been systematically underrepresented in books and publishing.
Delete media item?
Delete this item from the media gallery? It will also be deleted from any related story update.
Set as ?
The campaign video will appear in social media and email.
The campaign cover picture will appear in social media and email.
The will appear at the top of your campaign page and in social media and email.
Reset ?
It won't be used as default in social media and email. The will remain in the media gallery.
It will be removed from the top of your campaign and won't be used as default in social media and email. The will remain in the media gallery.
Delete update
Delete this story update?
Any pictures or videos will remain in the campaign's media gallery.