Verified organization
toronto,

ON, Canada
Website
7
campaigns
1714
contributions received
$58,249
raised
Member since February 2019
Delete media item?
Delete this item from the media gallery? It will also be deleted from any related story update.
Set as ?
The campaign video will appear in social media and email.
The campaign cover picture will appear in social media and email.
The will appear at the top of your campaign page and in social media and email.
Reset ?
It won't be used as default in social media and email. The will remain in the media gallery.
It will be removed from the top of your campaign and won't be used as default in social media and email. The will remain in the media gallery.
Delete update
Delete this story update?
Any pictures or videos will remain in the campaign's media gallery.
From 1993–1998, Black Eye Books published such notable cartoonists as Jay Stephens ( Dwellings , Jetcat & Friends , The Land of Nod , Atomic City Tales ), Nick Craine ( Dance Me Outside ), Jason Lutes  Jar of Fools , Berlin ), Tom Hart ( The Sands ), Jeremy Eaton ( World of Trouble ), Matt Madden ( Black Candy ), James Kochalka ( Quit Your Job ), Ed Brubaker ( Lowlife ), Brian Biggs ( Dear Julia ), and New Zealand's Dylan Horrocks ( Pickle , Hicksville ).
Relaunched in 2019 by publisher Michel Vrana, Black Eye Books continues its pursuit of publishing eclectic and engaging stories told in the form of words and pictures.
Organization activity
Nothing to show yet.
Organization campaigns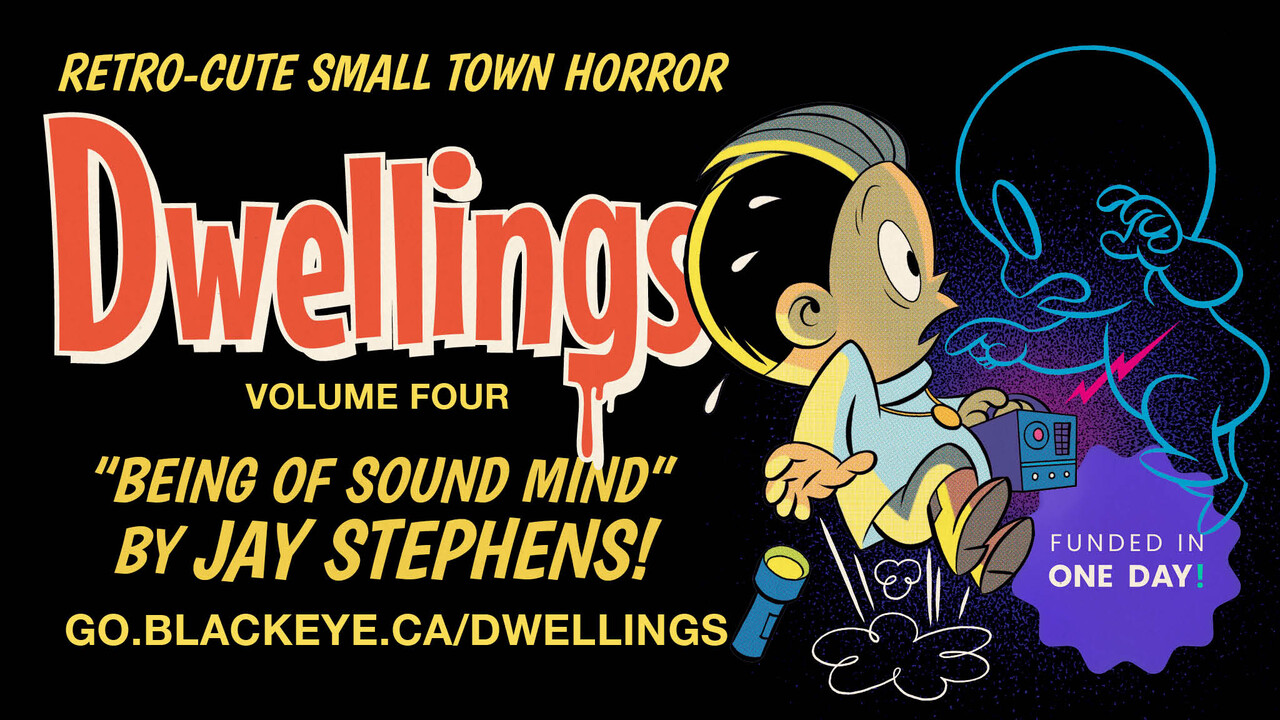 The fourth volume in Jay Stephens' ongoing cute-as-hell horror anthology series! Dwellings deftly blends retro cuteness with classic horror.
$14,748
raised of $5k goal
117 Days running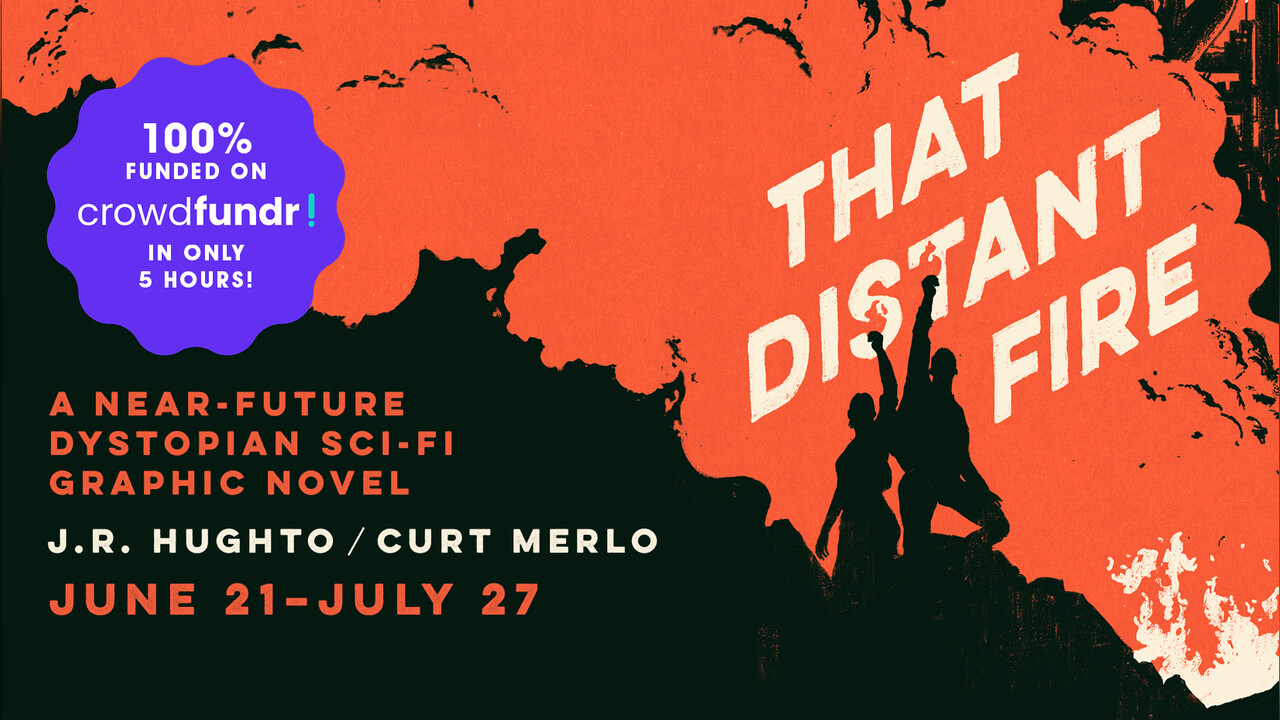 In a near-future dystopia, a young couple is on the cusp of inventing a breakthrough medical advancement while navigating a time of violent social unrest. Check out That Distant Fire by J.R. Hughto and Curt Merlo from Black Eye Books!
$16,914
raised of $5k goal
Finished November 2, 2022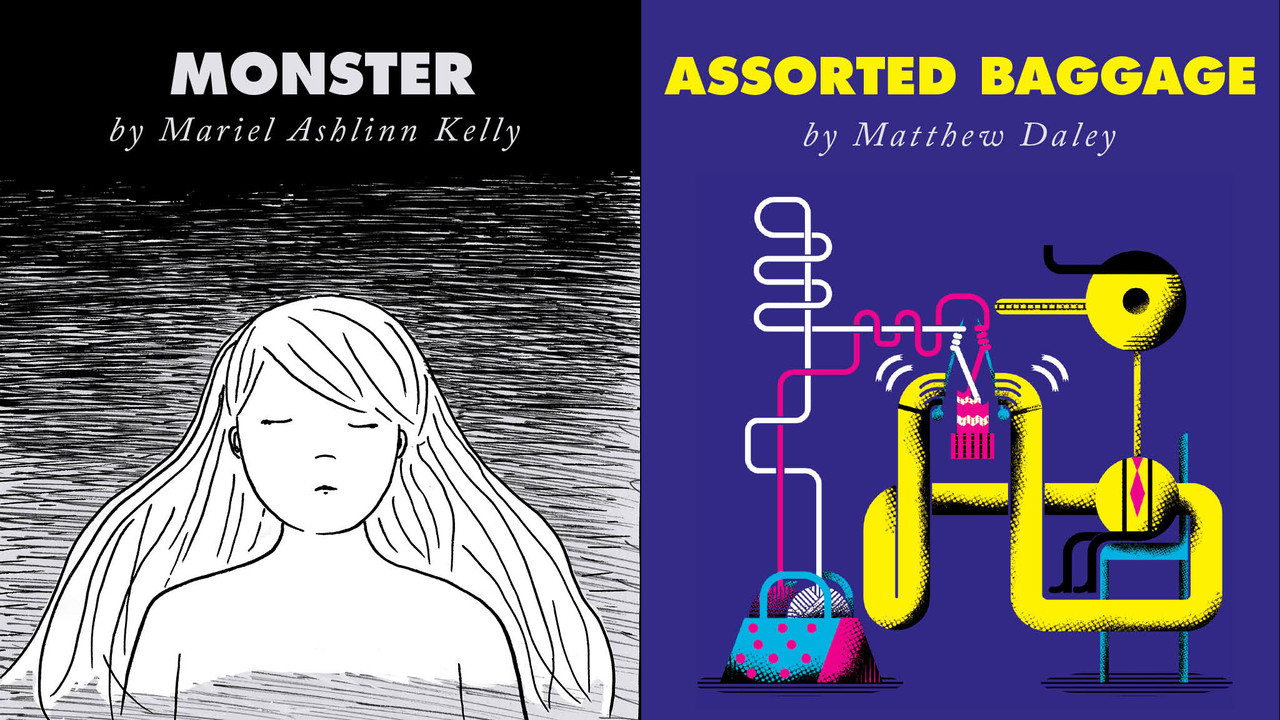 Two brand new projects by two Toronto illustrators: Monster, by Mariel Ashlinn Kelly is a 200 page lyrical reflection on love gained and lost. Assorted Baggage collects Matthew Daley's luscious coloured and wordless 4-panel strips into one 72 page volume.
$4,877
raised of $2k goal
Finished June 16, 2022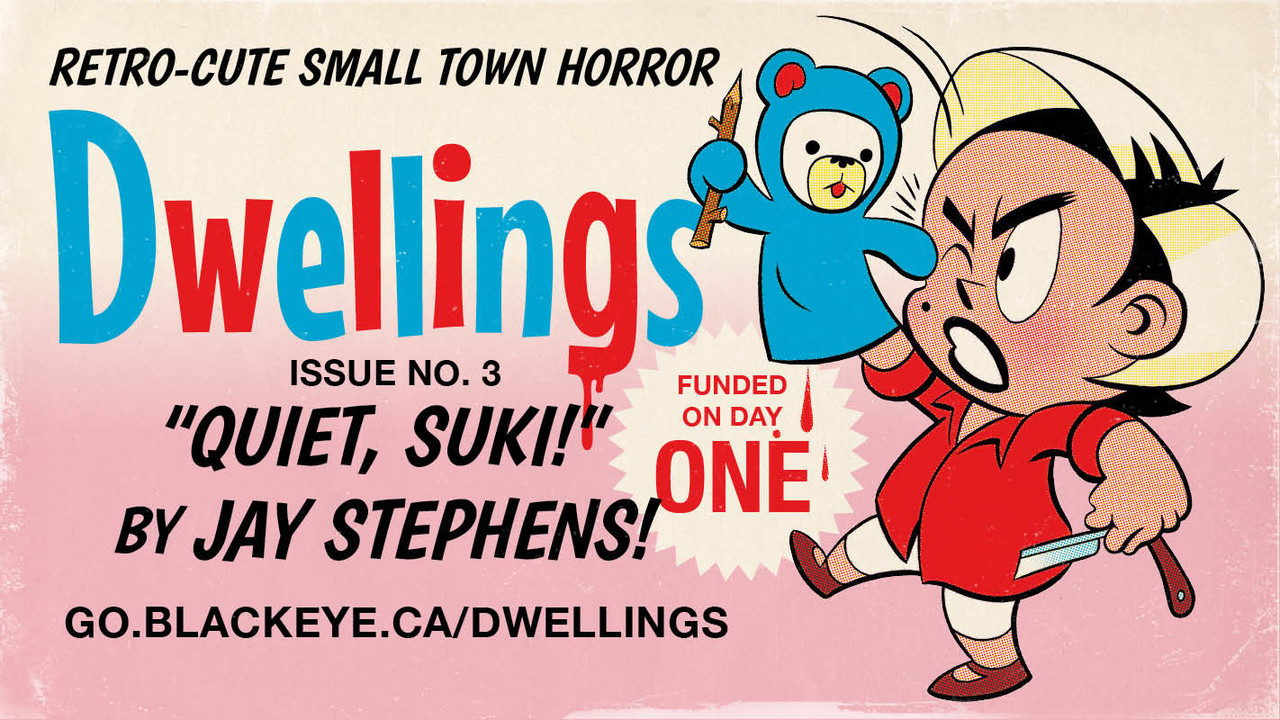 Dwellings No. 3: The latest issue in Jay Stephens' cute-as-hell horror comics series. Get yours now with crowdfunding exclusives, postcards, original art and back issues!
$14,705
raised of $7k goal
Finished May 3, 2022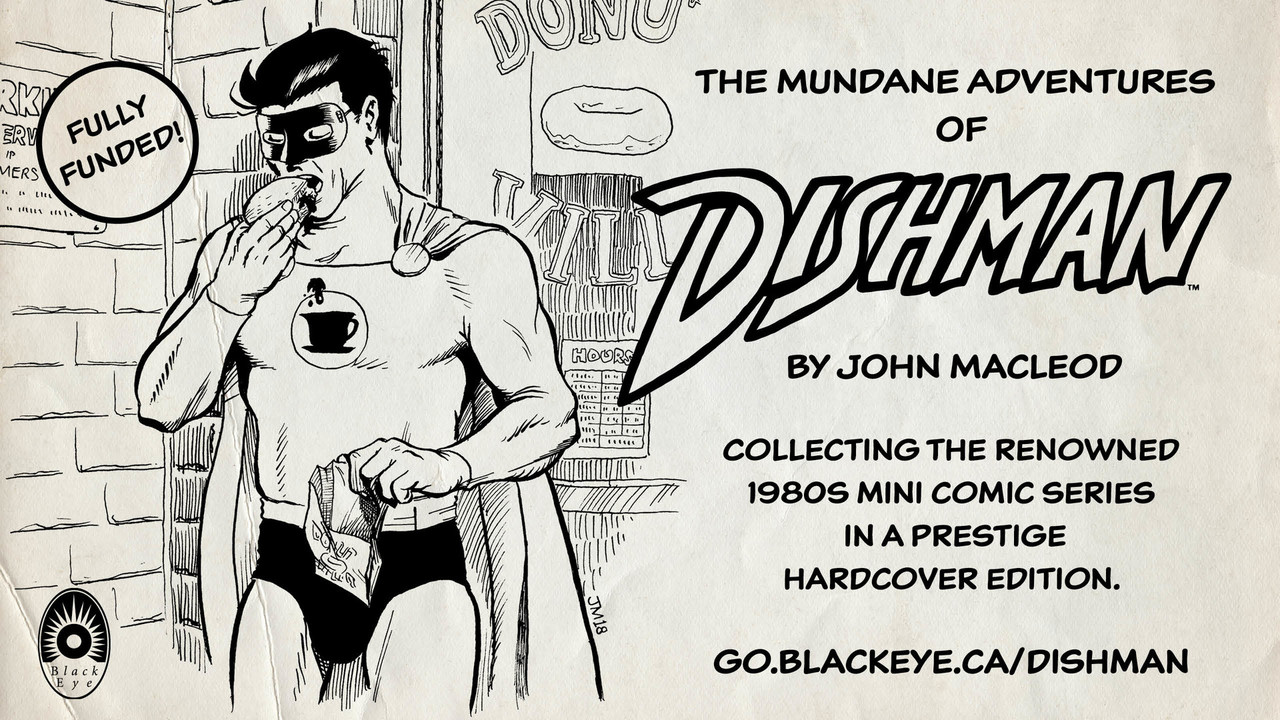 Collecting the renowned 1980s mini comic series The Mundane Adventures of Dishman into a prestige hardcover edition. Minicomic meets masterpiece edition.
$7,005
raised of $1k goal
Finished February 15, 2022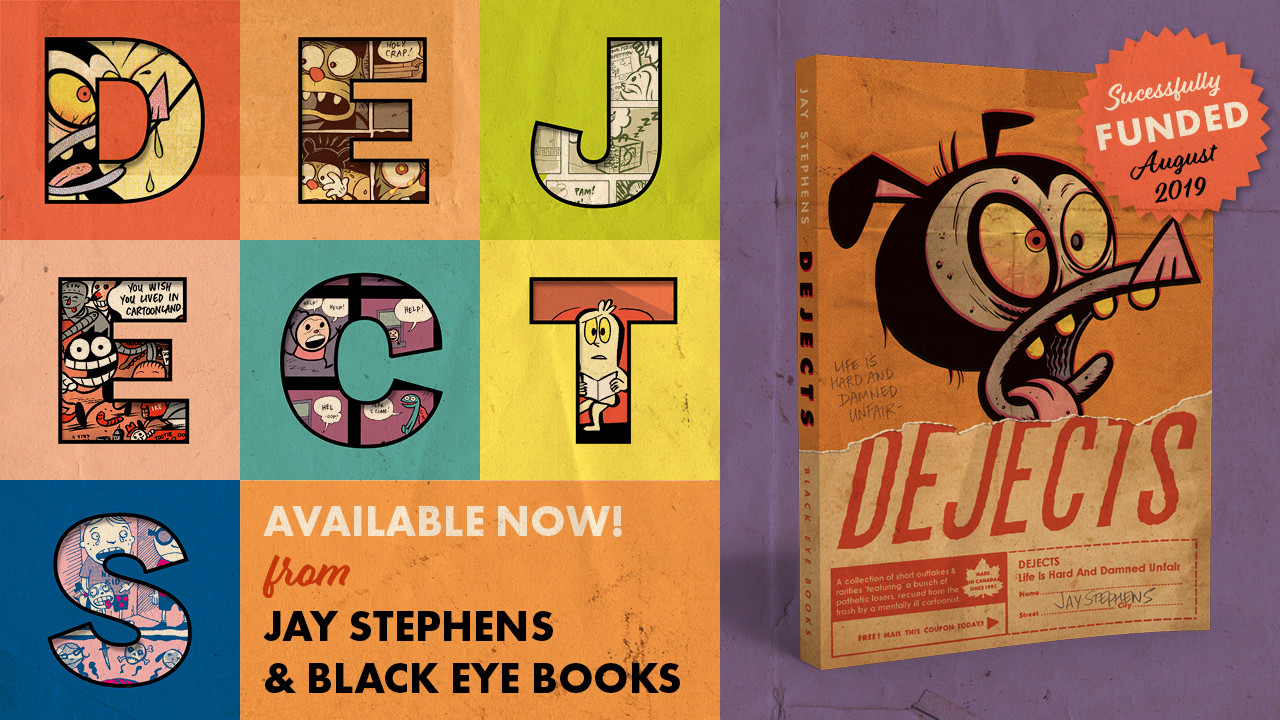 Preorder Dejects, a full colour collection of comics by Jay Stephens.
$3,695
raised of $2k goal
Finished January 1, 2020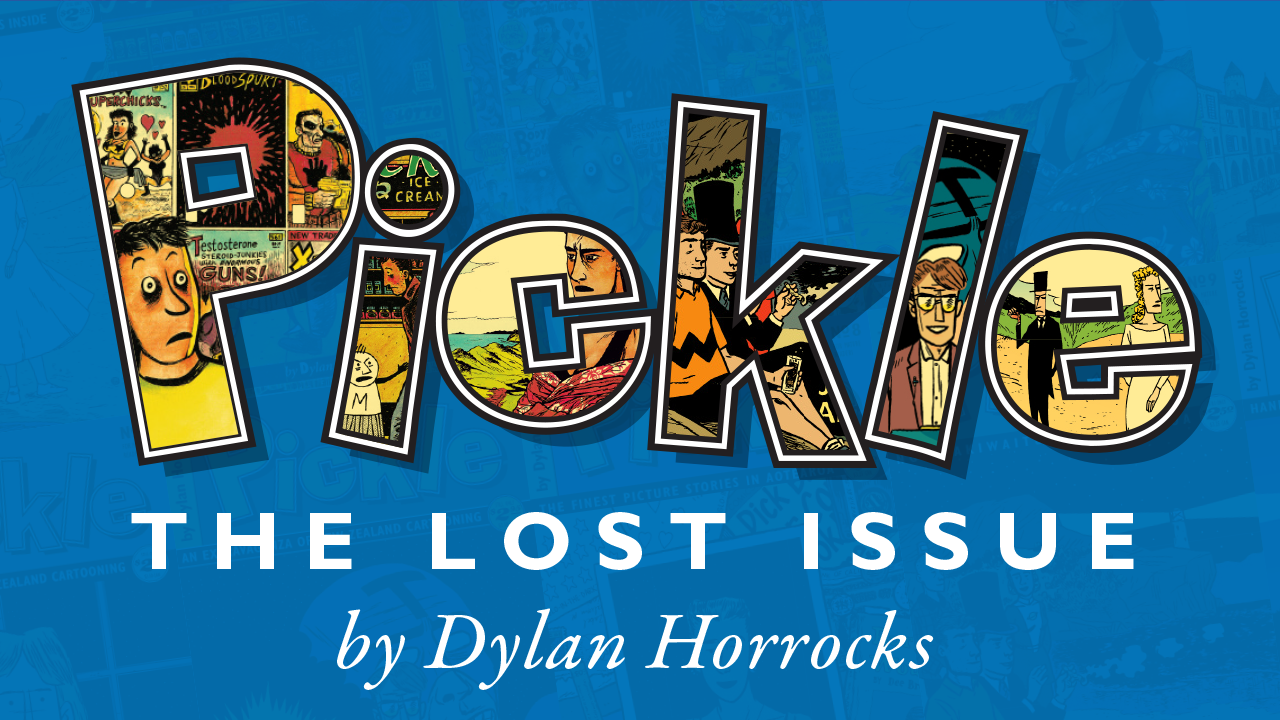 Twenty-two years after its initial planned publication date, cartoonist Dylan Horrocks and publisher/book designer Michel Vrana are pleased to offer the 'lost' final issue of Pickle #11.
$828
raised of $10 goal
Finished May 5, 2019
Profile privacy settings
Public profiles are indexed by Google and other search engines.

Show the number of campaigns run, contributions received, total raised, and date the organization started with FundRazr.
Show a chronological feed of contributions, campaigns milestones, etc.
Stats and activity can only be shown when the profile is public.
It might take up to 3 minutes until changes appear for visitors.